5 Ways To Renovate the Interiors of Your Home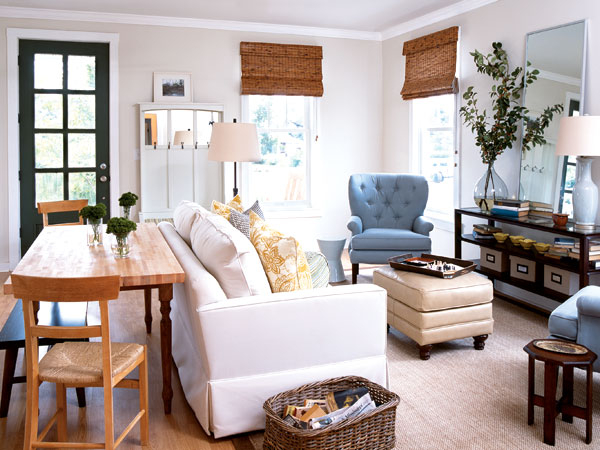 Even if you've just moved or are thinking of a swift, little home renovation, or perhaps something more noteworthy, there are few well-known interior design tricks that interior designers employ that you too can simply do with least effort and cost.  Many times the smallest things leave the greatest effect. It can be anything like the addition of a painting, a mirror, a lamp or a plant. Maybe you would want to soften your walls, brighten a room, or put some warmth to the living space.
Here are certain design tips and the easy ways they can inspire you to renovate the home.
Decorate with what you have.

Everyone has items which can be used effectively to decorate the home, the ones which they haven't even seen it once after buying. Home needs just a few accessories. Rather than going to the store and buying, its better to use whatever you have. On the top of the luggage racks, you can place the trays, wooden stuff, acrylic items, metal or silver utensils. Besides the side table or coffee table, tea carts and trunks can be placed for giving it a heritage texture. You can place candles or piles of books or frames above them. Copper or acrylic plates can be hung on the wall to create wall art. Illustrations from children books can be beautifully framed and hung in nurseries, children's rooms or their bathrooms.

Use decorative mirrors

A small space can be made to look large using mirrors. For big rooms or master bedrooms, or even if it's a small room, mirror kept directly across from the window, will surely add up light to the room. Empty wall space can also be covered up by using decorative mirrors. May it be big or small, mirrors add light and dimension to the interiors.

Blend the pattern and textures 

It's a great idea to place family inheritances beside the modern couches to give it a new look. The interior decorators always say that one of the most important aspects while decorating the home is that it shows your personality, who you are and your elegant style. For instance, a desk with antique stuff will tell a story about your grandfather, whereas the modern couch in which you simply fell in love with depicts the story of your present.

You might not want to place a painting by Salvador Dali next to the one by Monet, but then there's no specific reason that they can't be placed next to each other. Similarly with fabrics, even if it's on furniture, rugs or pillows, variant colors and patterns in the room can bring warmth and texture.

Use things that are more comfortable

Slipcovers many times get a bad rap but they are extremely amazing things. They completely change the look of the furniture making it reflect upon the seasons. These slipcovers give a sophisticated image and can also be easily removed anytime. You don't even have to worry about dirt or spilling of foodstuff on furniture. Slipcovers are perfect for rooms where children spend their entire day. Moreover, the white slip-covered couches display a casual, comfortable, easy yet sophisticated style.

Wicker baskets

Wicker baskets are a cost-effective and elegant way to add storage to any room. You can use baskets to store and display books, toys, architectural and decor magazines, towels and blankets and lots more. Keep a few small wicker baskets on the counter-tops in the kitchen to magnificently display and store the fruit and vegetables.

You must definitely talk to the interior designers before renovating your homes. They can make the best use of your stuff to decorate your home and save you from unwanted expenses too.